CREATING A BETTER AND CLEANER NAPLES
NAPLES, ITALY
11 March 2023
Pascal Lemos, from the Way to Happiness Naples, is taking a stand for the environment and launched a campaign to improve his community.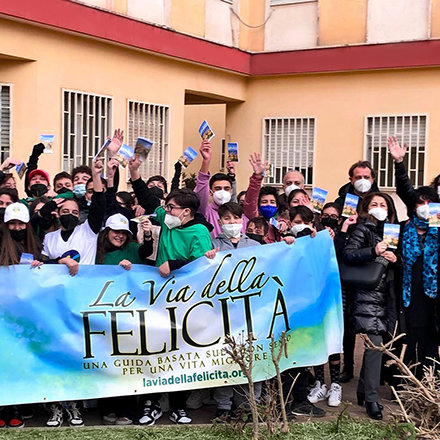 For many, Saturday is a day to relax, to kick back and soak up some sun, and spend time with your loved ones after a hard week of work. But in Naples, Italy, on Saturday morning, volunteers get up early to work together to clean up their streets and neighborhoods.
For Pascal Lemos, from the Way to Happiness (TWTH) Naples, this activity is not unusual. He and his volunteers have been cleaning up local neighborhoods, parks and beaches in collaboration with other associations and institutions for the past two years. The Way to Happiness Naples works on two purposes: the first is to improve the environment; the second is to raise public awareness of environmental issues, the need for action and the fact that something can be done to improve the situation.
In the spring of 2020, during the COVID-19 pandemic, Lemos found himself having trouble breathing because of the fumes and smoke of burning garbage in the city. He knew something had to be done, but the enormity of the problem was overwhelming. Lemos turned to a friend for direction on what he could do to help. "Go clean a beach," he said. With this simple instruction, a light bulb went off for Lemos. But it wasn't just about beaches.
The first thing he did was to reach out to a close friend, and together they cleaned a beach. It didn't go unnoticed. Not only a member of a local association thanked them for their efforts, but they took photos and videos to let people know what was going on. Lemos began reaching out to other people in the community who were socially active and other associations with similar purposes.
The thanks and appreciation he received spurred Lemos to expand the Way to Happiness campaign in his area.
The Way to Happiness is a common sense guide to better living written by humanitarian L. Ron Hubbard. Precept 12, one of the book's 21 precepts, is "Safeguard and Improve Your Environment." Implementing just this one principle, Lemos has created a small army of volunteers in less than two years, and together they have organized 80 cleanup events in and around Naples; engaged in school projects, including delivering two dozen lectures in middle schools; collaborated in community art events; enlisted the aid of a police inspector; and started a podcast program that a local TV station picked up and began airing once a day.
Lemos and his volunteers are aware of environmental issues we face in our communities. They are concerned about the high volume of disposable plastics being generated and our inability to manage the associated waste. Together, they are fighting to minimize and overcome this problem.
The Way to Happiness has been used to improve conditions in towns and villages all around the world. Many TWTH groups have promoted the book in its entirety, but others like Lemos have used one simple precept to improve and protect the community.
The world is full of problems and one can often feel overwhelmed, not knowing what to do. Sometimes, we need a little direction to find a starting point and then we can see where that leads us. And the results can be astonishing.
If you find yourself in a similar situation, Lemos's advice is, "Go clean a beach."