CLUB DESAFÍO HELPS HONDURAN YOUTH DEFY DRUGS AND GANGS
Eduardo Sabillon is passionate about reaching the youth of his country, Honduras, with The Way to Happiness to keep them from a future of gangs and crime.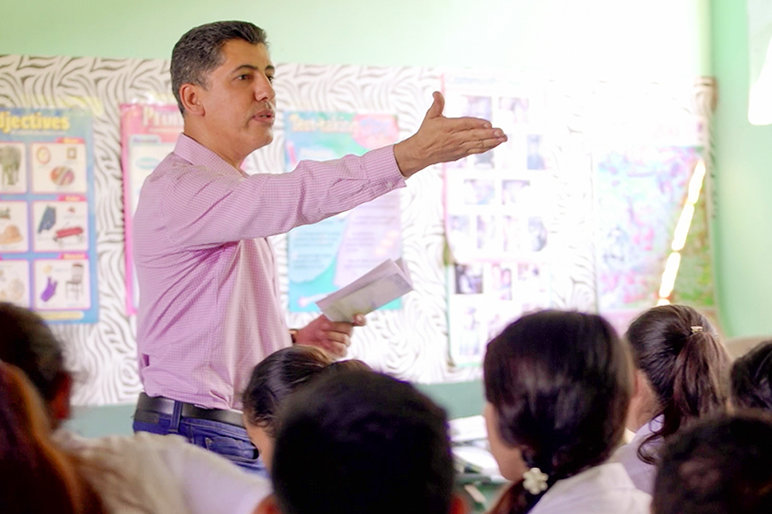 Eduardo Sabillon was born in a small village in the state of Santa Bárbara, Honduras. Early on he had a passion to help youth and became a teacher.
"Honduras has over 800,000 young people called 'ninis.' Not in school, not working," Sabillon says. Those youth are recruited by gangs, sometimes as young as nine. And once they're in, it is almost impossible to get them out.
After he was contacted by a Santa Bárbara high school principal who told him that gangs were selling crack in the village, Sabillon began looking for a way to reach these youth. "That's where I came up with the idea of Club Desafío. A club of those that are defiant."
He gathered at-risk students from high schools, forming them into clubs. But he saw he needed more. "Prevention is great, but we need more than that. We need something to restore values." When he found The Way to Happiness, it quickly became a permanent part of the program.
With great success working with the students, he needed to be able to multiply his reach and thus he trained teachers. "So that's how I began influencing that movement and creating a sense of social awareness."
The Director of Education for Santa Bárbara caught wind of Sabillon's work and wanted it for the whole state, making TWTH a part of all school civics classes. Other states caught on and implemented the program, reaching more than 600 schools nationwide.
To reach parents he started delivery at Escuela Para Padres (school for parents). They were soon holding monthly seminars and parents would then apply the precepts with their children. Soon pastors were calling for use of TWTH with the youth in their churches. They too received seminars.
All told, more than 100,000 were educated using TWTH in Honduras.
But how does one reach the ninis most at-risk of being pulled into gangs? Sabillon launched a project to create murals of the TWTH precepts right in their favorite hangout spots. Gathering the ninis together, they would not only assist in creating murals but in cleaning up and upgrading the locations.
Sabillon and his team further worked with the PNP, National Program of Prevention, a division of the government working in the "red zones," places only armed military go. But, the PNP were trained on TWTH and delivered in these communities.
"There is a change that is happening, people are feeling safer. People are very hopeful, they're hopeful for a better country. And they're doing something about it and turning it around." Sabillon's observation is borne out by a 25 percent drop in the country's homicide rate.
To learn more about Sabillon's work, watch a documentary on him at Scientology.tv/ESabillon.