NEWS
‣
RESTORING HONOR AND SELF-RESPECT
COLOMBIA GIVES A LESSON TO THE WORLD—THANKS TO MARÍA LARA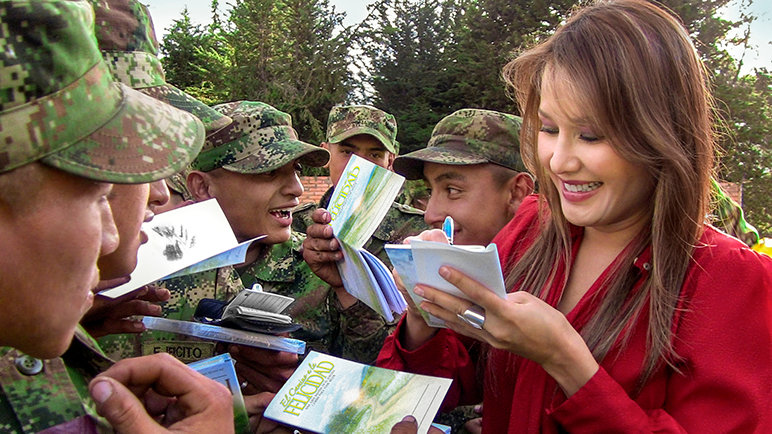 As a young child, María Lara wanted to bring change to her beloved country of Colombia. With The Way to Happiness she is doing that—and so much more.
María Lara is an actress with a passion for her country—and the humanitarian purpose to uplift it. Born in Cartagena, she grew up proud to be from Colombia. But already at age five she was aware of civil war, gangs, drugs and violence in her country. "I remember crying about it, and in that moment I said, 'Colombia will give a lesson to the world.'"
Lara studied industrial engineering in college, and while completing her degree, she won a national beauty pageant and subsequently landed her first TV series. She moved to Bogotá, and her career took off. Despite her success, however, Lara felt she had lost sight of her purpose. After being introduced to The Way to Happiness (TWTH) by Venezuelan actress Ruddy Rodríguez, she was revitalized. She became the TWTH Ambassador Colombia and created her own custom cover for the booklet. "Corruption, drugs and gangs happen because of a lack of moral values. That's what TWTH handles," Lara says. She took the booklet with her to media interviews and soon the TWTH public service announcements were airing on TV. One of her first seminars was for former members of the notorious Latin Kings gang. Then, to reach youth before the gangs did, she began to do seminars for kids. One seminar led to the next until she was delivering 3 or 4 in a day, reaching a total of 14,854 children with TWTH. In addition, she not only delivered to employees at 121 businesses, but to the police, who took TWTH to the streets, creating a better relationship with the public. With drug trafficking, criminality and "chop houses" (where victims of cartel wars were killed) discovered west of Bogotá, in Buenaventura, Lara went there. She delivered TWTH to 300 military personnel from the navy, army and police, who distributed some 200,000 booklets in the city. Within 8 months, the media reported crime in the area had dropped 70 percent, and Lara was invited to deliver to top military officers. When the Ministry of Defense was awarded by Transparency International, Colombia Chapter, as the best ministry and second most ethical of 287 institutions in the country, they acknowledged TWTH and María Lara for helping them "ensure transparent behavior, based on fundamental values, principles and norms." With Colombia's homicide rate the lowest in 42 years, Lara says, "We recovered our country. I am very proud." See the full story at scientology.tv/MLara.
---
TAKING ACTION
Providing a Moral Compass in School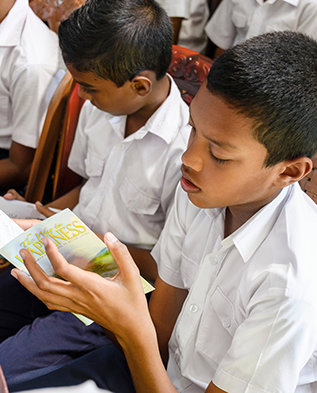 Our schools are the perfect environment for teaching the nonreligious moral values presented in The Way to Happiness. Now is the perfect time for educators to order The Way to Happiness educational materials and put them into use in their classrooms.
These materials are a simple and effective way to instill values in young people with a nonjudgmental, modern code that answers 21st-century needs. The core of all the materials is The Way to Happiness: A Common Sense Guide to Better Living, with its 21 precepts.
The Way to Happiness Educator's Resource Kit is the ideal kit for teachers. It comprises a full curriculum, The Way to Happiness book on film, The Way to Happiness public service announcements, posters of each precept of the book and 24 copies of The Way to Happiness.
The materials are free for educators at thewaytohappiness.org/educator.
---
RESTORE MUTUAL RESPECT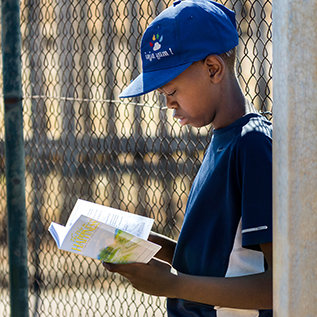 The Way to Happiness Foundation International works to reverse the moral decay of society by restoring trust and honesty through widespread distribution of the 21 precepts. Donations support production and distribution of The Way to Happiness booklet and curriculum material.
---