KANSAS CITY GROUPS RALLY FOR PEACE
KANSAS CITY, MISSOURI
26 March 2022
Since September 2020, groups in Kansas City have been coming together to promote peace and unity for a safer, less violent community.
Some 160 cars, motorcycles, SUVs, trucks and show cars lined up along Spring Valley Park Road off 29th Street, Saturday, March 26, for the sixth Kansas City United in Peace Ride and Rally at Spring Valley Park in Kansas City, MO. The diversity of the peace rides and rallies show everyone just what uniting in peace looks like.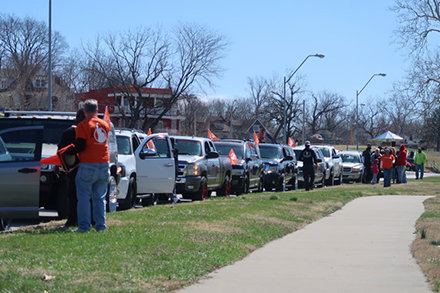 Riders took off at 2:15 p.m. to ride through East KC streets, waving United in Peace flags. People of all backgrounds, ethnicities and religions rode together. At the end of the ride, they gathered in the park for a rally and entertainment. Speakers shared their views on the importance of coming together to help one another and build a stronger, safer community for everyone.
The United in Peace Ride and Rally is always a free event where the community can come together and share the common desire to bring more peace and happiness to Kansas City.
"The United in Peace Rides are becoming a growing movement to promote unity and peace," said one Way to Happiness volunteer. "As a community, we must reach out and help others to find a better way for themselves, their families and their neighborhoods."
The United in Peace Foundation uses The Way to Happiness, the common sense moral code written by humanitarian L. Ron Hubbard, to promote change and lead the way to a better, more peaceful life.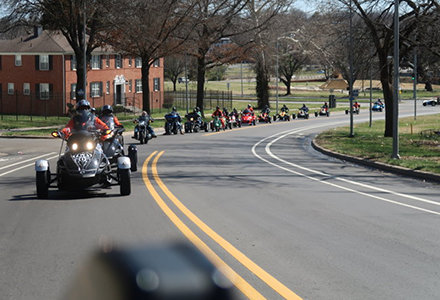 Saturday's peace ride had the highest attendance to date and featured a new MC—a local pastor who is a well-known Kansas City activist, radio host and recording artist. He not only preached about stopping the violence, he also sang about it, performing "I Am the Voice." His support and expertise brought the entertainment to an entirely new level.
As with each previous peace ride, local artists came to entertain and inspire. Among the new groups joining this peace ride was Mothers United, a group that supports families of homicide victims.
KCFD came out and distributed information on free fire detectors and took time to chat with the riders.
To keep informed on when the next United in Peace Ride will be held in Kansas City, follow United in Peace KC Facebook at www.facebook.com/UnitedinPeaceKC.