NEWS
‣
RESTORING HONOR AND SELF-RESPECT
SETTING A GOOD EXAMPLE IN HOLLYWOOD WITH THE WAY TO HAPPINESS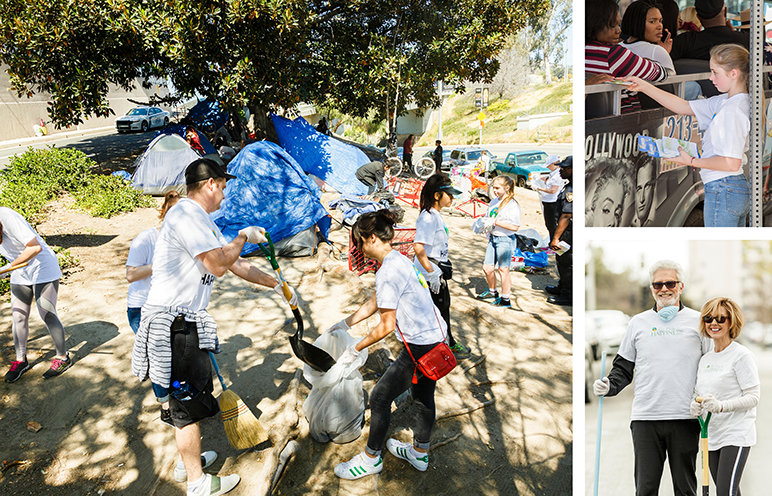 The Los Angeles Chapter of The Way to Happiness (TWTH), at the request of the police captain, is cleaning up Hollywood and creating a safe environment in the City of Stars.
Hollywood, California—home to movie studios and celebrities, with more than 10 million tourists visiting the iconic Walk of Fame each year. However, the number of people living on the streets and rising crime has been a growing problem. The Los Angeles police captain over Hollywood knew where to go to find a solution—The Way to Happiness. When the Los Angeles TWTH chapter received the request for help, the chapter In-Charge, Kelley Pomerantz, didn't hesitate, or as she puts it, it was "game on."
Kelley and her husband, Jeff, gathered a team of volunteers and started regular cleanups and TWTH distributions in the area. She says, "We got a group of volunteers, put TWTH T-shirts on, filled backpacks with booklets and went out. The city provided brooms, bags and shovels for the cleaning." These cleanups became a monthly activity.
Precept 12, "Safeguard and Improve Your Environment," states: "When people seem to be incapable of caring for their own things and places, it is a symptom of their feeling that they don't really belong there and don't really own their own things." Therefore they began cleaning around the homeless encampments and soon the homeless themselves were picking up brooms and shovels to clean and hauling trash bags into the waiting truck. Each received their own copy of TWTH.
The Los Angeles police captain over Hollywood knew where to go to find a solution—The Way to Happiness.
Precept 16, "Be Industrious," states: "Work is not always pleasant. But few are unhappier than those who lead a purposeless, idle and bored existence….In fact, it can be demonstrated that production is the basis of morale."
Already by their second monthly cleaning, they saw change. "We were surprised to see that some of the areas we had cleaned up last month had remained clean and fewer homeless people were present," said Jeff Pomerantz. The homeless soon began reporting in to the TWTH chapter volunteers on their progress in finding work and getting back on their own two feet and off the streets.
---
FACTS
BRINGING HAPPINESS
Here is a recap of the results of a year of activities with The Way to Happiness worldwide campaign.
2
MILLION
The Way to Happiness booklets distributed worldwide
321
CUSTOM COVER
The Way to Happiness booklets tailored for individuals to share with friends, colleagues and populations
56,880
STUDENTS
reached in the classroom with The Way to Happiness
388,552
VISITORS
to thewaytohappiness.org where they can request booklets, watch videos and do the E-course
84.5
MILLION
reached through the airing on TV of TWTH public service announcements and book-on-film
---
HELP RESTORE TRUST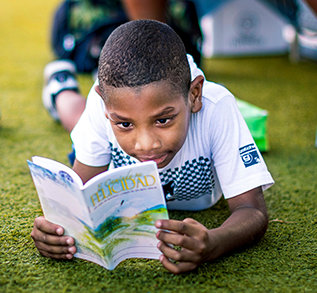 The Way to Happiness Foundation International works to reverse the moral decay of society by restoring trust and honesty through widespread distribution of the 21 precepts. Donations support production and distribution of The Way to Happiness booklet and curriculum material.
---