NEWS
‣
RESTORING HONOR AND SELF-RESPECT
LOS ANGELES PEACE RIDES BRING HISTORIC CEASE-FIRE AT ALL-GANG PEACE SUMMIT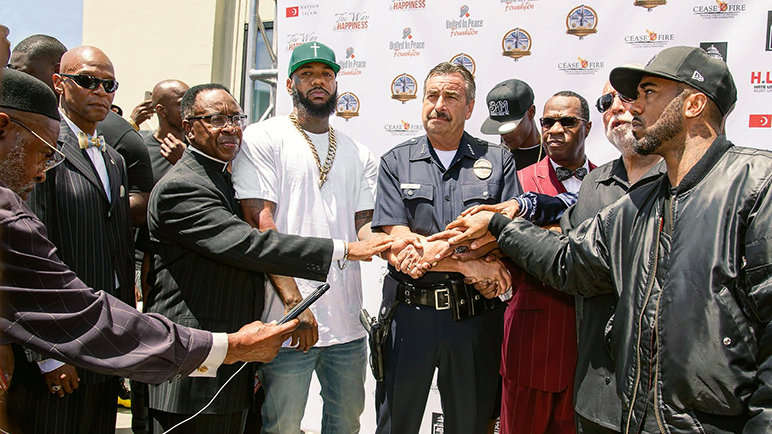 Nation of Islam Minister Tony Muhammad brokers a historic peace between gangs and 'hoods in South Central Los Angeles with The Way to Happiness.
The birthplace of the Bloods and Crips gangs, Los Angeles has long been considered the "Gang Capital of the World." There are more than 150,000 suspected gang members in the region.
When Minister Tony Muhammad, Western Regional Director of the Nation of Islam, was introduced to The Way to Happiness (TWTH), he knew he had in his hands a catalyst powerful enough to finally heal the streets of the inner city.
He and Baptist Minister Rev. Alfreddie Johnson created the United in Peace Foundation to build bridges between rival gangs and bring peace to the streets of LA using TWTH. One day he was struck with an idea: what if they got a group of motorcyclists together to ride as a "Cavalry of Calm" to spread their message in the street? And so were born the Peace Rides.
As many bikers are from rival gangs and clubs, bringing them together was a first step to reconciliation. The inaugural ride in October 2012 was a huge success. Word spread fast and more groups came on board. Every month, the Peace Rides went into a different neighborhood torn by violence, including notorious communities like Compton, Carson, Long Beach and Watts. At each stop, they handed out customized versions of TWTH booklets.
To date, 137 biker gangs and 69 car clubs have participated in 50 Peace Rides in 33 cities and neighborhoods, where violence has dropped by as much as 50 percent.
In July 2016, consecutive police shootings of two young black men raised tensions to a boiling point across the country. Rapper The Game wanted to do something for LA and reached out to Minister Muhammad for guidance. He suggested The Game gather gang members from across LA to go to the police in peace. Joined by superstar rapper Snoop Dogg, they arranged a march to Police Department Headquarters, where they had a sit-down meeting with LA's Chief of Police.
Following that historic and successful dialogue, Minister Muhammad arranged an All-Gang Peace Summit in Inglewood. An astounding nearly 3,000 people showed up, including celebrities, media and government officials, namely LA Mayor Eric Garcetti and Chief of Police Charlie Beck. For the first time ever, members of 25 rival gangs came together under one roof and aired their grievances constructively. Minister Muhammad encouraged reconciliation and all agreed to a cease-fire, signing a peace treaty to make it official.
Gang members in 14 US cities have reached out to Minister Muhammad for help to lead All-Gang Peace Summits in their cities.
---
TAKING ACTION
Create Your Own Custom Cover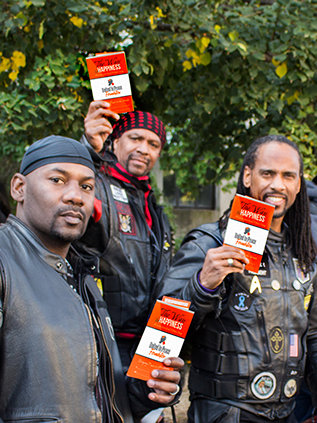 As the first moral code based wholly on common sense, The Way to Happiness delivers into your hands an effective and simple tool to uplift your own community.
The message and precepts of the booklet were meant to be shared. The page entitled "Why I Gave You This Book," reads: "Your survival is important to me."
Individuals, companies, nonprofits, law enforcement and government bodies have taken that message to heart and made The Way to Happiness their own. They do this through custom booklet covers that communicate their unique role in bringing about a better world—a goal the 21 precepts will help accomplish.
As you see in this front-page story, Minister Tony Muhammad and Rev. Alfreddie Johnson created a custom cover for their United in Peace Foundation.
You can do the same by contacting The Way to Happiness Foundation International.
---
HELP RESTORE TRUST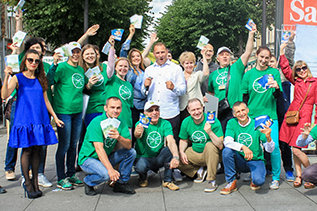 The Way to Happiness Foundation International works to reverse the moral decay of society by restoring trust and honesty through widespread distribution of the 21 precepts. Donations support production and distribution of The Way to Happiness booklet and curriculum material.
---