NEWS
‣
RESTORING HONOR AND SELF-RESPECT
HOW THEY ARE SAVING LIVES IN COMPTON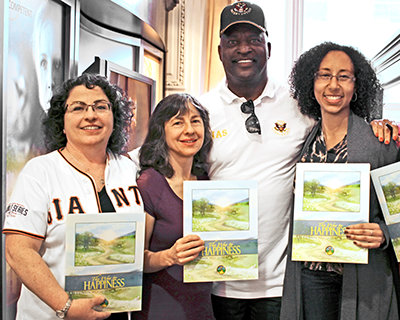 Founder of the Teen Intervention Project, Isaac Asberry has dropped crime and worked magic even he can't explain.
After 30 years with the Department of Justice, Isaac Asberry was ready to retire and live a peaceful life. He couldn't do it.
"My mother got on my back," he says. "'You need to get out there and help these young people,' she told me. So I've been doing it ever since."
In 2007, Asberry started the Teen Intervention Project in the city of Compton, where he was born and raised, and works with at-risk youth in trouble at school, on drugs or in gangs.
Though doubtful The Way to Happiness would work on kids as "far gone" as the ones in his project, after learning about the book, he decided to give it a shot.
He became a believer when he saw its transformative power on one young man who lived in a group home and hated his parents. But one day, he told Asberry he wanted to see his mother again for the first time in years. When Asberry asked what had changed his mind, he replied, "I was reading it in the book."
At the young man's request, Asberry helped him and his mother reunite, and the pair now work together in his mother's restaurant.
"It's magical," Asberry says. "If you can get a person to read The Way to Happiness and understand it, it's definitely going to make them change."
Teachers were shocked when they witnessed that phenomena at a Compton school. "What are you doing with these kids?!" several asked Asberry in disbelief.
"I don't know how this little book affects people. There's no yelling, no screaming, no cussing or intimidation, none of that, and it works."
"They were the most problematic kids in the school and, prior to us using The Way to Happiness, you were lucky if you got maybe eight out of 100 to graduate," says Asberry. "Once we started doing the course, the graduation rate went up to 75 out of 100."
But most astonishing to Asberry is the impact the book has on homicide and crime.
Asberry and his partner, Ron Dowell, erected "The Wall of Shame" at a Compton intersection, displaying the 3,000 names of those murdered in the city. There, they also passed out The Way to Happiness and went 50 days straight without a single murder. Asberry says that is a first in the history of Compton.
Asberry also tells of a friend, Bishop Franklin J. Harris, whose church is situated in the worst housing projects in the country. "To see him transform people by using this book is amazing," he says. Where there were previously three to four murders each day, those projects went three years without a homicide.
"I can't make sense of it," says Asberry. "With all my years in law enforcement I don't know how this little book affects people. There's no yelling, no screaming, no cussing or intimidation, none of that, and it works."
For the last five years, as Asberry travels to national conferences across the United States, he meets with police chiefs and sheriffs and introduces them to The Way to Happiness. He says they love the booklet and wish they had had it their entire careers.
While continuing his work in Compton, Asberry says he won't stop until he gets law enforcement in every major American city using The Way to Happiness. With his experience, he knows what kind of effect that will have.
"When I pass out a book I think I'm saving a life," he says.
---
MAKE A DIFFERENCE
The Way to Happiness Foundation International works to reverse the moral decay of society by restoring trust and honesty through widespread distribution of the 21 precepts. Donations support production and distribution of The Way to Happiness booklet and curriculum materials.
---