NEWS
‣
RESTORING HONOR AND SELF-RESPECT
THOUSANDS IN ISTANBUL LEARN THE 21 PRECEPTS
A fledgling Way to Happiness team in Turkey is off to a fast start.
Turkey's new Way to Happiness team has officially launched.
Spearheaded by Şengül Aktaş, the group made their debut in the capital of Istanbul this spring, where they distributed 3,400 custom cover copies of The Way to Happiness to vendors and locals throughout the city.
In one Islamic community of Istanbul, store owners were introduced to the booklet and the fact that its universal principles are applicable to—and can strengthen the members of any faith.
They thus displayed copies in their stores, and when Aktaş returned several days later, all booklets were gone, with store owners requesting as many more as possible. After overseeing this grassroots distribution, Aktaş organized meetings with government officials to plant the seeds for top-down delivery.
One member of the Ministry of Education, after learning of The Way to Happiness and its success in other countries, expressed his full support and proposed conducting daily screenings of the public service announcements in schools throughout Istanbul. He plans to present the program and distribute booklets to his team at the Ministry to coordinate delivery accross the country.
An Istanbul Deputy Governor and his team also received a presentation and were eager to look further into the program and collaborate with the Ministry of Education on means of bringing the 21 precepts to Turkish youth.
---
WE

really

WANT TO HEAR FROM YOU
In our cover story, you learned how The Way to Happiness contributed to a 20 percent drop in crime in Amsterdam. Here are a few of the sentiments behind the statistics in that city.
MAKING THE RIGHT CHOICE
"I'm very interested in The Way to Happiness. I keep the booklet on me and pull it out of my pocket when I don't know what choice would be best. It has improved my judgment many times where I would not have known how to make the right choice."
A DAILY ROUTINE
"I read it every day, again and again, and try to apply it to my life."
POSITIVITY AT THE RIGHT TIME
"Your booklet came at exactly the right time in my life. I was very negative to others and to myself. That's why I read the booklet and why I want to order more booklets to give them to people who I love."
A FIRST
"I have never seen such a good moral compass."
BEAUTIFUL PRINCIPLES
"There are beautiful principles in here. It gave me a better understanding of the Ten Commandments."
IMPROVING YOURSELF IMPROVES OTHERS
"In reading the book I understand that improving myself I can improve others around me. I use this booklet with my children and they are improving in many ways. I believe that by improving myself and my family, I can contribute to improving the world."
FOR EVERYONE
"I admire you for what you do with your group. In my opinion a lot of people can benefit from reading The Way to Happiness. It is also good to read it again and again when I experience difficult times. The booklet is really for everyone."
---
MAKE A DIFFERENCE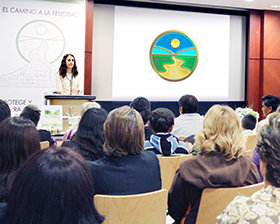 The Way to Happiness Foundation International works to reverse the moral decay of society by restoring trust and honesty through widespread distribution of the 21 precepts. Donations support production and distribution of The Way to Happiness booklet and curriculum materials.
---