NEWS
‣
RESTORING HONOR AND SELF-RESPECT
THE 21 PRECEPTS TO UPLIFT HONDURAS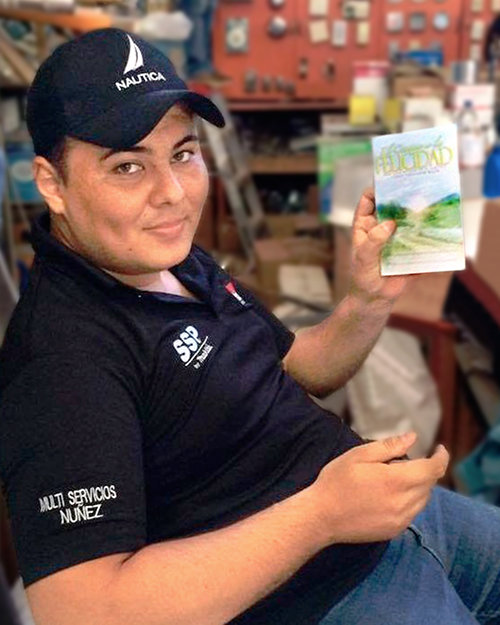 Retired army veteran Jason Martin recently brought
The Way to Happiness
to Hondurans in need.
Retired army veteran Jason Martin traveled from Nashville, Tennessee, to Honduras to complete construction of a house for missionaries, doctors and advisers.
But as valuable as this project was, his trip soon turned into something even more meaningful.
The World Bank lists Honduras as one of the poorest, most vulnerable countries in the world, with 63 percent living in poverty. Unable to eke out a living, many resort to crime.
The Honduras murder rate rivals the worst on Earth, driven by street gangs who move US-bound cocaine through the country from South America. In fact, less than 200 miles from La Ceiba, the city of San Pedro Sula was dubbed "murder capital of the world" in 2014 and is still among the worst cities on the list today.
"I decided I wanted to share The Way to Happiness with those living in poverty-stricken circumstances," says Martin.
As described on The Way to Happiness website, "This code of conduct can be followed by anyone, of any race, color or creed and works to restore the bonds that unite humankind."
Martin distributed the booklets, but encountered many who could not read. So he stepped his efforts up a notch by setting up a small group where precepts were read aloud. The group then discussed them so all could achieve full understanding.
---
WE

really

WANT TO HEAR FROM YOU
Leaders in diverse fields find The Way to Happiness to be the missing moral compass to their own campaigns. Here are what a few such leaders are saying.
SECRETARY OF THE UNIVERSAL PEACE FEDERATION "This booklet tells many things that I think are very important for communities and it can help to create more peace, less violence and more happiness in the end. Because everything which goes wrong in society also has costs. But I think the first step is to spread this message and then to form communities that give shape to this booklet, to the ideas in the booklet. That's the only way to get happiness, by cooperation and practicing these values. The Way to Happiness is the way to real happiness."
CHARITY TRUST FUND, MIDDLE EAST "The Way to Happiness booklet was quite illuminating. That's the word I want to use. I have noticed the writing is not talking down to you. It's talking with you. Now this is quite important. Most of these other ideas or dogmas or schools of thought talk down to you. They want you to obey and listen. Now that's something unique about this organization, they're not talking down to you. They just say, 'You just listen and see if this is really the road to happiness or not.' I really appreciate this point."
CHRISTIAN CHURCH FOUNDER & CORRECTIONAL EDUCATOR, SOUTH AFRICA "I haven't seen anything like The Way to Happiness. Because the whole book, with all the precepts, really gives nice guidance in terms of teaching how people should live and how they should live together. The influence that it has is great. On me personally, for instance, I'm finding the purpose of my existence by using The Way to Happiness."
---
RESTORING TRUST
The Way to Happiness Foundation International works to reverse the moral decay of society by restoring trust and honesty through widespread distribution of the 21 precepts. Donations support production and distribution of The Way to Happiness booklet and curriculum material.
---