NEWS
‣
RESTORING HONOR AND SELF-RESPECT
CUSTOM COVER BOOKLETS A GLOBAL PHENOMENON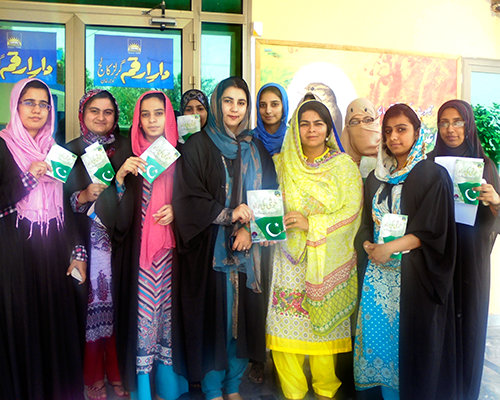 Individuals, groups and companies make
The Way to Happiness
their own—as an extension of work, goals and community.
As the first moral code based wholly on common sense, The Way to Happiness delivers into the hands of people like you an effective tool to elevate a culture.
The Way to Happiness is meant to be shared. The page entitled "Why I Gave You This Book," reads: "Your survival is important to me."
Individuals, companies, nonprofits, law enforcement and government bodies the world over have all taken that message to heart and made The Way to Happiness their own. They do this through custom booklet covers that communicate their unique role in bringing about a better world—a goal they know the 21 precepts will help accomplish.
Here, briefly, we wanted to introduce a few such individuals.
Aisha Zafar is a humanitarian and activist in Islamabad, Pakistan, who discovered The Way to Happiness online several years ago. She ordered booklets and began distributing them in her community, with the goal, as she put it, "to serve mankind."
Before long, Zafar had created her own custom cover booklet of The Way to Happiness with Pakistan's starred green flag fluttering in its corner. She formed a team that has grown today to a force of 12 women, eager to bring the 21 precepts to their people. Together, Zafar and her group have introduced The Way to Happiness to more than 50 community leaders, delivered more than 100 seminars and distributed more than 4,200 booklets in all.
"It's remarkable," Zafar says of the power of the book. "It changes thousands of lives into happiness."
Anatoliy Telbukh of Ukraine began his current project with The Way to Happiness in 2013. His goal, he says, is "prosperous people in a prosperous country" and to deliver "confidence in the future, happiness and prosperity into the lives of the people of Ukraine."
He uses custom cover booklets of The Way to Happiness in both the Russian and Ukrainian languages, each showing two hands coming together in the shape of a heart, symbolizing unity and love.
In a matter of 10 months, Telbukh and his team had already distributed 230,000 copies and reached one fifth of the population of a number of Ukrainian cities with the 21 precepts.
Telbukh's team spreads the precepts everywhere—to a prison in Zhitomir, on a main street in Kiev, in a school in Khmelnitsky, and on and on.
"Before long, Zafar was using a custom cover booklet of

The Way to Happiness

with Pakistan's starred green flag fluttering in its corner."
"This is interesting and important work and we do it with pleasure and inspiration," he says.
A business consultant in the United States began introducing clients to The Way to Happiness for personal use. One client decided to share the booklet with her dental patients by including her own custom cover version in every promotional pack she sent out to new patients. To her surprise and no doubt thanks to the chapters "Take Care of Yourself" and "Fulfill Your Obligations" the show-up rate of new patients soon rose from 50 to 95 percent and she was amazed.
With that, the consultant realized this was a way to help all his clients—have them use The Way to Happiness with new and existing customers who can't help but embrace the messenger, because its message is one that enhances their survival. A true win-win.
---
RESTORING TRUST
The Way to Happiness Foundation International works to reverse the moral decay of society by restoring trust and honesty through widespread distribution of the 21 precepts. Donations support production and distribution of The Way to Happiness booklet and curriculum material.
---