NEWS
‣
RESTORING HONOR AND SELF-RESPECT
SPREADING CALM IN TURBULENT TIMES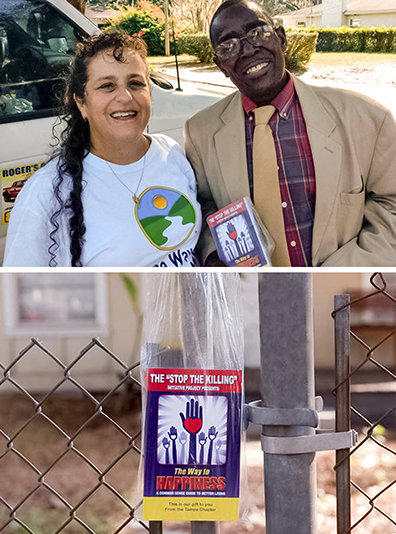 The Way to Happiness Tampa chapter brings calm and hope to Seminole Heights.
The leafy neighborhood of Seminole Heights in Tampa, Florida, is the last place one would expect a serial killer to be on the loose. However, in the fall of 2017, after four murders there, the threat was real. With only grainy security camera footage available, police had very few leads. The community was on edge. After attending a press briefing by the Tampa Mayor's Office and Police Department, the Tampa TWTH chapter decided to restore calm.
L. Ron Hubbard, author of The Way to Happiness stated: "All you have to do is keep that booklet flowing in the society. Like gentle oil spread upon the raging sea, the calm will flow outward and outward." In keeping with this, the team rolled out a plan to reach residents of Seminole Heights and to be a calming hand in that turbulent time.
They went door-to-door giving out copies of The Way to Happiness with a custom cover that read, "Stop the Killing." They spoke to each person about their concerns. Even after a suspect was arrested, they continued into 2018 until all households were reached with the 21 precepts.
Neighbors were so grateful they posed with TWTH volunteers for photos, asked for their own T-shirts and thanked the volunteers profusely. On the Channel 10 news at 6 p.m., the anchor held up The Way to Happiness, noting that the TWTH Tampa chapter had "decided this was a good time to spread a message of neighborly love."
---
WE

really

WANT TO HEAR FROM YOU
Governments and educational institutions the world over find The Way to Happiness program an invaluable asset in their work. Here is what professionals from some of those organizations had to say:
CALHOUN CITY SCHOOLS, GEORGIA
I wanted to share with you what a valuable asset we have found The Way to Happiness videos to be. We used several of them from the book in student and staff training over the last several years. We incorporated one of them, "Do Not Harm a Person of Goodwill," into our annual bully prevention training. It goes along great with our "Stand UP Against Bullying" message.
EXECUTIVE MAYOR OF BITOU MUNICIPALITY, SOUTH AFRICA
I welcome the voluntary work, commitment and dedication of The Way to Happiness Foundation. It is a program that clearly converges and resonates with the strategic objectives that we are looking forward to implementing. We therefore endorse the important work that has been done by The Way to Happiness program.
COLLEGE OF ARTS, COMMERCE & SCIENCE, INDIA
Your nonreligious and nonpolitical book has found agreement with all races, cultures and religions worldwide. It is highly relevant and important in teaching the youth values and strengthening their character, and enables them to take right decisions for themselves and for this country.
BOLIVARIAN NATIONAL GUARD, VENEZUELA
I am pleased to express effusive words of congratulations to all the members of The Way to Happiness Foundation. We thank you with great satisfaction for the incorporation of this Foundation's precepts in our daily work, contributing to the formation of our cadets, students, officers and professional troops, who now follow the philosophy of leading a happier, more successful and responsible life.
---
FACTS
OUR ENVIRONMENT
The following facts are reasons why we must take care of our environment.
27%
of coral reefs
throughout the planet have been destroyed
80%
OF FORESTS
have already been lost, with another 375 square kilometers destroyed each day
1,692
ACRES
of productive land becomes desert every hour
1.8
MILLION DEATHS
each year are caused by unsafe water and water-related diseases
55
BILLION TONS
of fossil energy, minerals, metals and biomass are extracted each year from the earth
---
HELP RESTORE TRUST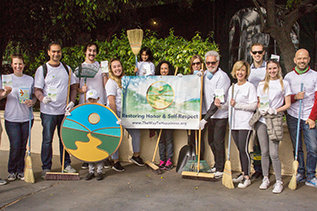 The Way to Happiness Foundation International works to reverse the moral decay of society by restoring trust and honesty through widespread distribution of the 21 precepts. Donations support production and distribution of The Way to Happiness booklet and curriculum material.
---