NEWS
‣
RESTORING HONOR AND SELF-RESPECT
SPREADING HAPPINESS AT ANNUAL PARADE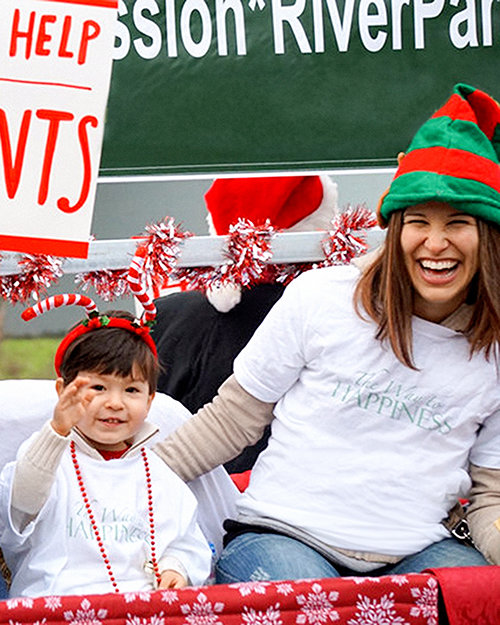 21 precepts for happiness are promoted at 34th Holiday Celebration.
The 34th annual "Christmas in the Village" celebration sponsored by the Chamber of Commerce in Fair Oaks, California, spread Christmas cheer to thousands this year with a gingerbread house, arts and crafts at Santa's Workshop and the Parade of Lights along Fair Oaks Boulevard.
The Church of Scientology Sacramento and local Scientology Missions joined forces to create a float for this year's parade in honor of The Way to Happiness—one of dozens entered by local community groups. The floats rolled down the parade route, accompanied by marching bands, dancers, officials, vintage cars and overall Christmas cheer.
Volunteers from local The Way to Happiness Foundation chapters helped create the float. The Church of Scientology and its missions sponsor these chapters to uplift their communities by promoting the nonreligious common sense guide for better living.
Seated aboard the float, a young volunteer carried a placard bearing the title of one of The Way to Happiness booklet's 21 precepts, "Honor and Help Your Parents"—an appropriate motto for the family-friendly event. The chapter reads:
"In spite of all, one must remember that they are the only parents one has. And as such, no matter what, one should honor them and help them.
"The way to happiness includes being on good terms with one's parents or those who brought one up." —Precept 5
---
WE

really

WANT TO HEAR FROM YOU
It is never too late for a new beginning; and never too late to salvage another's chance for a better tomorrow by sharing The Way to Happiness, as these two stories illustrate.
PERFORMING ARTIST
"I was one of those kids namelessly referred to as the 'problem.' And it was true—trouble with the law, my school, my parents. I was not doing well personally—committing crimes, [abusing] alcohol, and I was getting into drugs. My school reports contained As, but only in the word 'absent.'
My parents left a copy of The Way to Happiness on my bed, and I sat down and read it. The book contained many concepts that I had always wanted to live up to, but had failed at, even some real simple ones that I thought weren't a problem for me, such as, 'Be Worthy of Trust.'
"Something happened to me when I stared that cold hard fact in the face, and realized I was not worthy of trust. I decided to change. I started making correct decisions in my life. I am now quite a successful actor and composer. In fact, my first international world premiere is with the Brandenburg Philharmonic Orchestra. I support this program because I know if my parents hadn't given me the book, I'd probably be in a [prison] cell right now."
15-YEAR-OLD YOUTH
"Stealing, fighting, skipping school, taking drugs, disrespecting my mom—these were just some of the things I would do on a daily basis two years ago. I didn't have any goals in life. I didn't care if I got shot and died. I had no communication with my family.
"I began to take a course on The Way to Happiness and I can proudly say that it saved my life. I now work and I am doing really well in school. I have great communication with my family. Most importantly, I have a goal now."
---
FACTS
US VIOLENT CRIME
The challenge facing citizens and law enforcement is told in these numbers.
1,248,185
VIOLENT CRIMES
committed in a year—an increase of 4.1% over previous year
95,730
RAPES
reported to law enforcement in a 12-month period
7,919,035
PROPERTY CRIMES
in one year, including burglaries, larceny and motor vehicle thefts
$15.6
BILLION
lost in property damage and crimes in a single year
10.7
MILLION ARRESTS
made by US law enforcement agencies, excluding those for traffic violations in a 12-month period
---
HELP RESTORE TRUST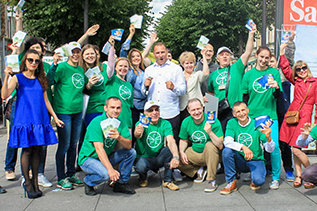 The Way to Happiness Foundation International works to reverse the moral decay of society by restoring trust and honesty through widespread distribution of the 21 precepts. Donations support production and distribution of The Way to Happiness booklet and curriculum material.
---