NEWS
‣
RESTORING HONOR AND SELF-RESPECT
POLICE COMMANDER PUTS THE WAY TO HAPPINESS TO WORK IN THE "PEARL OF THE CARIBBEAN"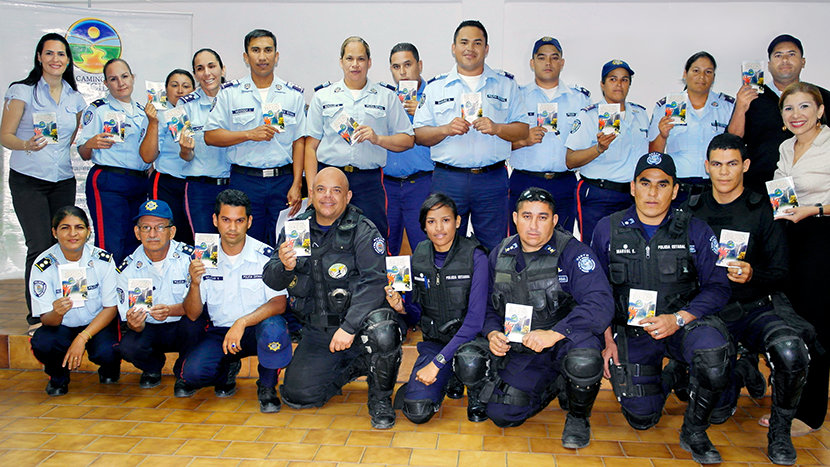 When an island paradise turns criminal and violent, Commander Edgar Salazar calls in the 21 precepts. Calm begins to follow in their wake.
Margarita Island, the "Pearl of the Caribbean," was the first Venezuelan territory to be freed from Spanish rule in 1814.
But today, it has come to suffer under a different form of oppression. A 200 percent inflation increase has driven many to lives of crime, while tourists visiting Margarita Island have been attacked and murdered, reducing travel to one of Venezuela's most sought-after destinations, which depends on tourism to survive.
Commander Edgar Salazar of the Margarita Island police was thus understandably relieved when he was introduced to The Way to Happiness (TWTH). He quickly gathered up 300 key military personnel, police, firefighters and other local authorities for a seminar on how to use the 21 precepts.
Next, he educated his team of officers on The Way to Happiness distribution, bringing them to the main city plaza, where, to date, they have distributed more than 100,000 copies of the booklet. In a span of 12 months, Salazar's team further trained another 500 police on the precepts.
By the time Commander Salazar and his men were called to handle a riot in a juvenile prison, their methods had changed. Where they had once come bearing guns, they instead brought The Way to Happiness, coaxing prisoners (guilty of rape and murder) back into their cells where they began reading the booklet.
Commander Salazar then took the 10 most violent prisoners who had started the riot through the full TWTH curriculum, reading each precept, watching each chapter of the book-on-film and completing lessons along the way. Violence in the prison dropped to zero and these 10 inmates began setting an example for fellow prisoners—encouraging them to clean their cells and take care of themselves and their environment.
To date, Commander Salazar has overseen the training of more than 2,400 inmates.
He has even noticed a change in his own force. After learning the precepts, his officers straightened up too, drinking less, being less promiscuous and more responsible overall. "I make them learn the precepts to help them to help society," he says.
With the blessing of his state's police general, Salazar is next gearing up to train every officer on Margarita Island—some 2,000 in all—to bring The Way to Happiness from shore to shore.
---
TAKING ACTION
Irish Humanitarian Takes Action with

The Way to Happiness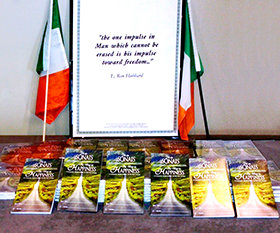 One Irish humanitarian took it into her own hands to get The Way to Happiness translated into Ireland's first official language of Irish Gaelic. This newly translated book was published as a bilingual edition, with the Irish and English text appearing side by side throughout the book.
In April, public attended the release event at the Gresham Hotel in Dublin, with all attendees dedicating themselves to getting a volume of booklets distributed throughout Ireland during this centennial year, commemorating 100 years since the Easter Rising of 1916, which paved the way toward Irish independence.
The Way to Happiness has already, prior to translation, produced incredible results in Ireland. The newly translated edition—with its precepts of "Respect the Religious Beliefs of Others," "Try to Treat Others as You Would Want Them to Treat You" and others—is an essential component in the salve that will ultimately soothe the nation.
---
RESTORING TRUST
The Way to Happiness Foundation International works to reverse the moral decay of society by restoring trust and honesty through widespread distribution of the 21 precepts. Donations support production and distribution of The Way to Happiness booklet and curriculum material.
---