NEWS
‣
RESTORING HONOR AND SELF-RESPECT
Israeli Mayor Embraces The Way to Happiness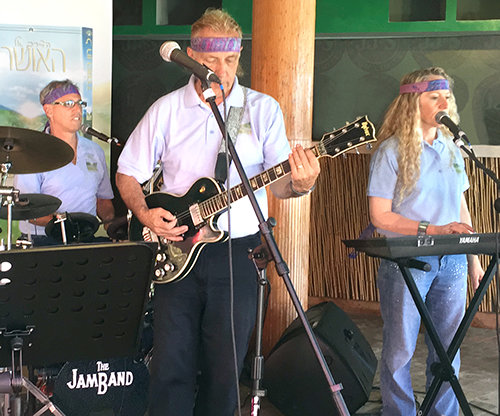 Way to Happiness emissaries and rock band members inspire the leader of an Israeli city.
An American classic rock group that promotes the 21 precepts recently took a tour in Israel, joining up with a local Way to Happiness team for a series of performances and events.
The most notable among them were those in the Arab city of Tamra in Northern Israel, where the band performed at a high school graduation attended by the Cardinal responsible for all Catholic Churches in the nation, together with the Mayor of Tamra himself. When the Cardinal learned of the band's project to bring peace to Israel through The Way to Happiness, he blessed the team and urged them to continue their work.
Shortly thereafter, band members were treated to a private audience with the Mayor of Tamra, who was introduced to the 21 precepts and presented with a special leather-bound edition of The Way to Happiness (TWTH). The Mayor was touched, and shared his long-term goal of creating peace between all faiths in Israel. Recognizing kindred spirits in that pursuit, he invited the band, as his special guests, to perform the following day at a large parade in Tamra. The event was a huge success, attended by 1,000, every one of whom received The Way to Happiness materials.
Meanwhile, TWTH Israel team continues its activities, distributing tens of thousands of booklets and working to build a moral foundation on neutral ground for the turbulent region—one rooted in common sense.
---
WE

really

WANT TO HEAR FROM YOU
Those championing The Way to Happiness span the professional gamut—from mothers and teachers to youth counselors and corrections officers. Here is what they have to say about the power of the 21 precepts.
TOTALLY FLOORED
"When the kids started watching the PSA for 'Do Not Murder' and 'Do Not Do Anything Illegal' and specifically the point that says that you cannot hide from yourself, the kids were shocked. Totally floored. No one had ever told them this information. When I asked for their feedback after the PSAs were over, they were silent for minutes before one of the girls finally said, 'Teacher… How do we use this so that people do not murder?'"
EVEN FOR GRIZZLED INMATES
"Regardless of how grizzled many of the inmates with whom I work may be, the video and booklets are well received… Thank you."
DOING IT RIGHT
"I LOVE this! My eldest granddaughter, when I showed her the materials said, 'As long as you're homeschooling, may as well do it right.' I am also sharing with other homeschools in my area. Please, can you answer one question for me? Why is this program not in all schools? If it were, there would be fewer problems."
AWAKENING THE GOOD
"[The Way to Happiness] awakens good things inside you and proves that good things still exist in the world."
LIFE-CHANGING
"My students have enjoyed the video that matches the book. It keeps their attention and allows for dialogue. I use it as a part of my group counseling session to teach self-esteem, relationship building, empathy and moral development. It has been life-changing for me as well and I have shared it with my family."
HAD TO SHARE IT
"We are reading this right now, again. We loved it the first time and had to share it with others."
---
DONATE
The Way to Happiness Foundation International works to reverse the moral decay of society by restoring trust and honesty through widespread distribution of the 21 precepts. Donations support production and distribution of The Way to Happiness booklet and curriculum material.
---