NEWS
‣
RESTORING HONOR AND SELF-RESPECT
DOING SOMETHING ABOUT IT IN SOUTH AFRICA WITH THE WAY TO HAPPINESS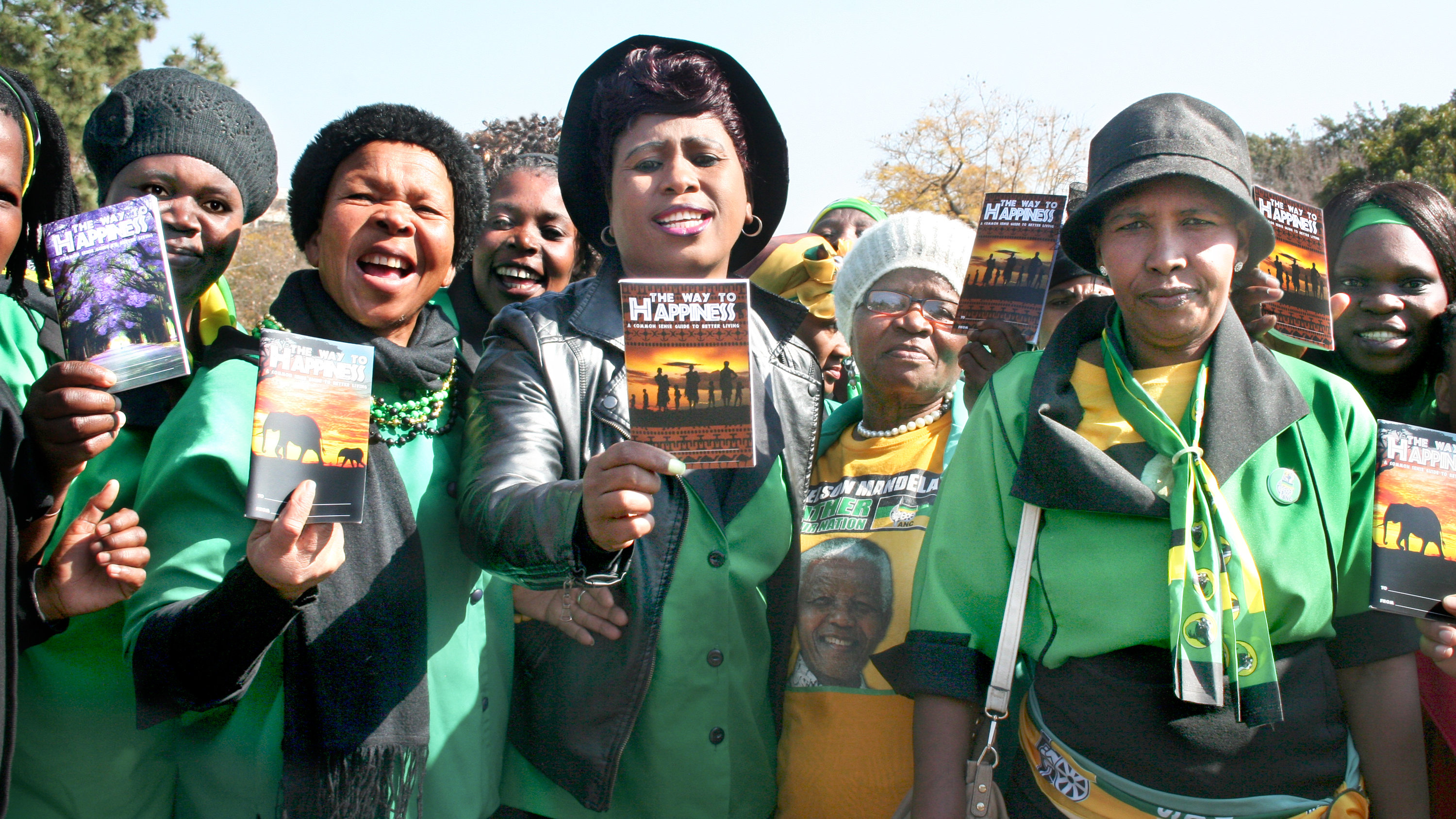 In an impoverished and crime-ridden country,
Way to Happiness
advocate Heidi Wolfaardt is putting the 21 precepts to work to restore values to her people.
In the last five months, South African Way to Happiness enthusiast Heidi Wolfaardt has overseen the distribution of 100,000 booklets to doctors, prisoners, police officers, teachers, businessmen and South Africans from every imaginable walk of life.
It began with a wake-up call.
"Interpol has named South Africa the rape capital of the world," says Wolfaardt. "We have some of the highest poverty, crime and women and children abuse rates on Earth. But rather than be afraid or just complain, I want to do something about it.
"That's why I decided to start using The Way to Happiness. By improving people's self-respect and worth, we can improve their morals and how they view and treat themselves and others."
To create that effect on a broad scale, Wolfaardt created 13 Way to Happiness teams, each of which conducts hand-to-hand distribution to blanket their respective areas. They reached more than 740 miles from where Wolfaardt began in Pretoria.
"The Way to Happiness

speaks to everyone. No matter your age, background, culture or race, you can relate to it and start applying the precepts."
She is especially proud of the Plettenberg Bay team, which works closely with the police and delivers seminars to a range of audiences, from parolees to college students.
"The Way to Happiness speaks to everyone," says Wolfaardt. "No matter your age, background, culture or race, you can relate to it and start applying the precepts."
Booklets are distributed in the five main languages spoken in South Africa—English, Afrikaans, Zulu, Xhosa and Sotho—each with their own custom cover.
In doing direct distribution, Wolfaardt says she regularly meets individuals who received a copy of the booklet in the past and have been using it ever since.
"I met one lady who works at a community center with troubled teenagers and received The Way to Happiness years ago," says Wolfaardt. "She said this booklet is very dear to her and she has been able to help many people with its contents."
---
FACTS
THE 21 PRECEPTS
are getting a workout. Want to know where they've been and what they've done? In the last 12 months:
310
CUSTOM
covers were created.
120
MILLION
people were reached through booklet distribution, seminars or the media.
257
TELEVISION
stations aired The Way to Happiness film and PSAs.
1,978,911
BOOKLETS
were distributed.
1,661
SCHOOLS
received Way to Happiness seminars.
---
DONATE
The Way to Happiness Foundation International works to reverse the moral decay of society by restoring trust and honesty through widespread distribution of the 21 precepts. Donations support production and distribution of The Way to Happiness booklet and curriculum material.
---