NEWS
‣
RESTORING HONOR AND SELF-RESPECT
WITH MASS DISTRIBUTION OF

THE WAY TO HAPPINESS

, CRIME TAKES A DIVE IN AMSTERDAM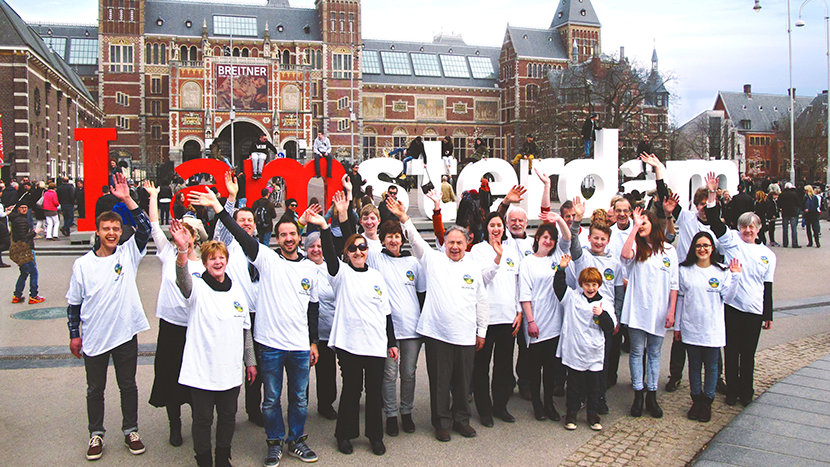 After one Amsterdammer reaches every household in his city with
The Way to Happiness
, a moral resurgence follows making it now the fifth safest city in the world.
Amsterdam is a city that is as morally loose as it is culturally rich—that's its tradition.
Prostitution in Holland, for example, dates back to the 13th century and its sex industry today rakes in an estimated $800 million a year. Meanwhile, with marijuana decriminalized in 1976, tourists and citizens alike may waltz into one of Amsterdam's more than 150 "coffee shops" for a legal high, all while crime eats away at the heart of one of the greatest cities in the Western world.
Dutch contractor Joop Remmerswaal had watched his city deteriorate for long enough. In 2012, having heard of the inexplicable power of The Way to Happiness to reduce crime and restore morality, he was inspired to make it happen in his own urban backyard.
Gathering a team of volunteers, Remmerswaal worked out a distribution strategy starting in the city center—Amsterdam's highest concentration of coffee houses and prostitution—and spiraling outward to reach every one of its neighborhoods.
The team thus began at Amsterdam's "bullseye": the historic Nieuwmarkt Square, where they placed booklets in every residential mailbox. They continued their actions every weekend over the following two years. The volunteers ventured into the Southern Canal Ring, where cannabis starter kits sell for six euros alongside tulip bulbs at about the same price. From there, they moved to the Museum Quarter, plagued by pickpockets and petty thieves. Then, it was onto the infamous de Wallen Red Light District, a network of alleys along which scantily-clad women, illuminated by red lights, stood in some 200 floor-to-ceiling windows beckoning passersby. Yes—this is a city that needed The Way to Happiness.
By the time the team had blanketed each of Amsterdam's six districts—delivering the booklet into every shop, mailbox and hand they could find—they had passed out more than 200,000 copies and hit every household in the city.
As Remmerswaal might have expected—though it tempered his proud satisfaction not at all—the results were dramatic. Once a growing business, some 18 coffee shops have now shuttered, while prostitution windows dwindled from 200 down to 109.
Meanwhile, though crime statistics in outlying areas never touched by The Way to Happiness remained unchanged, date coincident with the start of distribution, crime in Amsterdam began a steep decline. It fell by 20 percent the first year, and another 20 percent the second year—boosting Amsterdam up in rank to the fifth safest city on Earth.
---
TAKING ACTION
Thai University Introduced to The Way to Happiness Campaign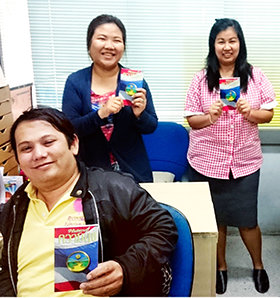 One American student of international business in Thailand became very creative for a recent class project.
Charged with finding a problem and a solution within or beyond the university's borders, the student selected to address the issue of immorality. The solution: he gathered up copies of The Way to Happiness and distributed them high and low.
One lucky recipient of the booklet was a university dean, who, after learning of the 21 precepts and the PSAs, was so impressed he suggested the school should implement the program in its college business curriculum.
Booklets additionally went out to local taxi drivers, coffee shops and bank managers. Meanwhile The Way to Happiness book on film aired on all ten TV screens at the busiest food court on campus, where hundreds of students converge between classes.
To find out how you can start a distribution project of your own and bring common sense solutions to your campus or community, write us.
---
MAKE A DIFFERENCE
The Way to Happiness Foundation International works to reverse the moral decay of society by restoring trust and honesty through widespread distribution of the 21 precepts. Donations support production and distribution of The Way to Happiness booklet and curriculum materials.
---