NEWS
‣
RESTORING HONOR AND SELF-RESPECT
NEVER TOO LATE TO MAP A NEW ROAD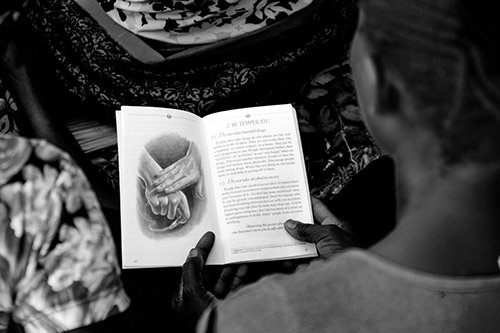 One man's sharing of The Way to Happiness changes another man's life.
The man was drunk, walked into a wall and fell down almost unconscious when Josh noticed him. Josh helped him come to and gave him a Way to Happiness booklet. Two months later, Josh received this letter:
"Dear Josh,
"My name is Andrew. I don't know if you remember me, but I am the drunk you helped on St. Patrick's Day.
"First off I wanted to say thank you for saving my life!
"There were several things about me that you were unable to know but your amazing act of kindness truly saved my life….
"I am an alcoholic and have been for 30 years. I never had the guts to admit that to anyone, including myself. But I was also on the run from the law.
"Whatever you did for me that night was like a sobering slap in the face. When I got 'home' I read that little booklet you left with me cover to cover.
"It truly is the way to happiness!
"So, the following day I turned myself in to the rehab center where I should have gone years ago. They helped me to get sober and I am pleased to say that I am 60 days sober. It really is thanks to you!
"I am now serving a five-year prison sentence, and I am taking full responsibility for all the harm I have done in the past.
"I hope this letter finds you well. Thank you for helping a drunk stranger. You have changed my life!
—Andrew [prison cell #]"
---
WE

really

WANT TO HEAR FROM YOU
The Way to Happiness is a powerful tool in bringing calm to social turbulence and instilling people with moral values. Here is what some government leaders say.
MINISTRY OF EDUCATION, KIEV, UKRAINE "We greatly appreciate your efforts in improving Mankind and providing a better future for the people in Ukraine and the world. We are indebted to The Way to Happiness for bringing up our younger generation in the spirit of high morality and goodwill and for revealing the foundations of human values to our people. It would be wonderful to have at least one copy of this magnificent book at every school and library."
MAYOR, CITY OF LOS ANGELES "The Way to Happiness Foundation is a founding and primary supporter of the popular United in Peace movement and its monthly Peace Rides, which have successfully united over 300 civic groups and organizations of diverse culture and creed and provided The Way to Happiness booklet to tens of thousands of Los Angelenos.
"During the first full year of the monthly Peace Rides and its distribution of The Way to Happiness in 2013, annual crime statistics compiled by the Los Angeles Police Department showed the City of Los Angeles coincidentally experienced a historic drop in crime—the lowest number of homicides since 1966 and the lowest number of Part I crimes [such as murder, rape, burglary, arson and assault] in over 50 years—since 1956."
FORMER PRIME MINISTER, GUYANA "The Way to Happiness doesn't compromise a person's existing religious beliefs or social status. In a sense, it is all pervasive. Whether a Muslim or Hindu, even a nonbeliever, it can make a very telling message that is relevant to your own circumstances."
---
FACTS
THE BIG PICTURE
The universal appeal of The Way to Happiness as told by the numbers.
21
PRECEPTS
Imparting moral values from "Take Care of Yourself" to "Be Worthy of Trust" to "Flourish and Prosper."
115
LANGUAGES
The Way to Happiness holds a Guinness World Record as the most-translated nonreligious book.
187
NATIONS
have supporters and coordinated distribution of The Way to Happiness.
20%
OF COLOMBIA'S
population has been reached by 10,000 Colombian National Police Officers distributing the booklet.
118
MILLION BOOKLETS
distributed worldwide since its introduction in 1981, providing a moral compass for all to live by.
---
MAKE A DIFFERENCE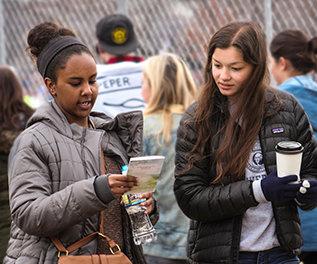 The Way to Happiness Foundation International works to reverse the moral decay of society by restoring trust and honesty through widespread distribution of the 21 precepts. Donations support production and distribution of The Way to Happiness booklet and curriculum material.
---