THE WAY TO HAPPINESS
The first moral code based wholly on common sense, originally published in 1981, its purpose is to help arrest the current moral decline in society and restore integrity and trust to Man. The Way to Happiness further holds a Guinness Record as the single most translated non-religious book in the world.
Written by L. Ron Hubbard, it fills the moral vacuum in an increasingly materialistic society, containing twenty-one basic principles that guide one to a better quality of life.
No one questions the fact that moral standards have become degraded over the decades. Skyrocketing drug and alcohol abuse, now all too prevalent among the younger generation, has brought increased crime to schools, cities and countries. Statistics show that proliferation of drugs and escalating violence go hand in hand.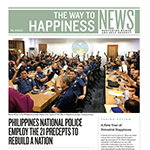 The Way to Happiness ambassador Jerry de Tagle works with Philippines officials to reach every inhabitant of the Philippines with the 21 precepts of The Way to Happiness.
Educators, corporate executives, legislators and dignitaries learn how to distribute The Way to Happiness to the benefit of their communities, businesses and nations. Then again, to meet the ever-increasing demand, the headquarters print-on-demand facility...